'We had to relearn how to talk to people'
Hannah Sutton spent seven months in 2019 on Maatsuyker Island, off southern Tasmania, with her partner, Grant
During their seven months on Maatsuyker Island, the only significant disagreement Hannah Sutton and her partner, Grant, had was about chocolate. Their carefully chosen 700kg of supplies and equipment had included dark chocolate (being stranded miles from the nearest shop seemed like a good opportunity to wean themselves off sugar). But when her mother sent them a package a few months in, containing cheap milk chocolate, "it was like heaven", says Sutton, 32. They bickered over who had taken the bigger share. (It was resolved amicably – they got engaged on Maatsuyker and are now married.)
They had applied to work on the island, where they would stay in one of the three former lighthouse keepers' houses, look after the place and take weather readings. After a few weeks' training, they were dropped off by a helicopter.
For the first few days, they were given a handover by the leaving caretakers. "You're aware they're going through a lot of emotions, saying goodbye to the island, so you don't want to come in guns blazing," says Sutton. When they were finally alone, it felt "euphoric", she says: "You look around and realise that the little critters and shearwaters are your new housemates. It's the start of a journey of getting to know them, and them getting to know you." There is a network supporting the operation of the island, but the couple certainly felt the physical remoteness. "That's an exhilarating feeling – the freedom," Sutton says.
Although it was risky – they had to take readings in all weather during the day, clinging to the handrail around the island's lighthouse – Sutton says she didn't feel anxious that, were it needed, help would not arrive fast. "Maybe this is part of us being naive," she says. Mostly, although they were constantly busy, they weren't under pressure. "You're not in a rush. You can spend a whole day doing a hike, taking your time to navigate the steep inclines."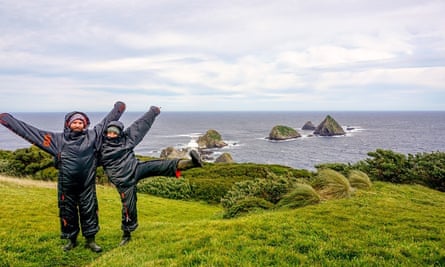 They had patchy internet access at the best of times, but then their satellite dish blew off in a storm. They had to reinstall it using only a photograph of the previous setup. "Grant was on the roof and I was on a handheld radio, using this photo to try to align the angle of the dish," she says.
Although they were comfortable with the isolation, it was exciting when they saw a passing boat, or a plane, or heard someone on the radio. Contact with other humans came at the midway point, when they were visited by Tasmania's Parks and Wildlife Service. "They check that you're OK and not about to kill each other. That was really nice, but we had to relearn how to talk to people."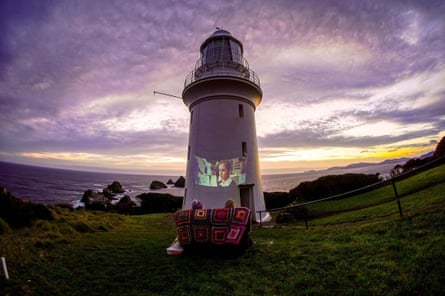 As it was winter, it rained a lot; mud and leeches could be a problem. The work included clearing drains, servicing the generator and mowing many miles of grass. But there were amazing upsides, too: "There was such good swell and the seals would go crazy. You could see the shearwaters' migration from the island up to the northern hemisphere."
Towards the end of their stay, Sutton's grandfather had two strokes. "I felt the distance and the isolation then, when I wasn't sure if I had said goodbye to him for the last time," she says. Her grandfather recovered, but it clarified what she wanted for her post-island life – to be near their families. They now live in Western Australia, where Sutton works in sustainability for a global engineering company.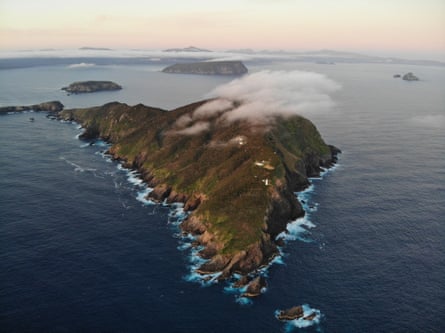 She acknowledges that she and Grant are very lucky to have experienced island life. "Not everyone has the luxury to be able to say goodbye to everything for seven months and do it, so we were aware of our privilege and very grateful for it."
They live frugally, get out of the city when they can and try to stay off the internet. "It reminds you that you don't need a lot of things. The most important things are that you're happy and that you get along with each other; that you appreciate the amazing experience that you've been awarded."
'It was very primal and a lovely way to live'
Chris Lewis embarked on a journey to walk the coastline of the UK in 2017. During a Covid lockdown in 2020, he lived alone on Hildasay, off Shetland's mainland, for three months
Chris Lewis, 43, didn't intend to be stranded alone on an island, but when Covid hit during his walk of Britain's coastline, he was in Shetland. Someone offered him and his dog, Jet, the use of a basic house on Hildasay, an uninhabited island more than a mile off the mainland. It had no running water, gas or electricity, but Lewis had been living in a tent till then; it was just nice to get out of the brutal wind.
He had embarked on the walk two and a half years earlier, in search of a challenge and as a way to help his depression; he had also been facing homelessness. He would raise £500,000 for SSAFA, the armed forces charity that had previously helped the former paratrooper adjust to civilian life and single parenthood. His daughter's decision to leave home at 16 became the catalyst for his decision to embark on the walk.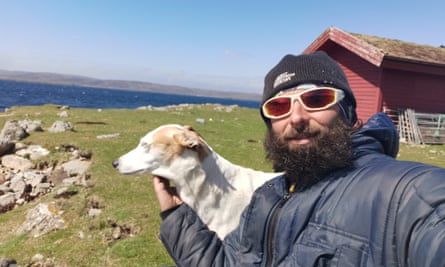 Settling on Hildasay was the first time he had stopped anywhere for more than a few days. He thought he would be on the island for three weeks or so, but he ended up living there for three months.
The walk had prepared Lewis for much of island life – the isolation, the weather, the physical hardships – but he knew that stopping in one place would bring mental challenges. "I had to remain proactive and get busy," he says. "I had learned enough from isolation about the importance of keeping busy; that's the main thing. The second you settle, you can lose your mind. It's not easy being on your own all the time."
Not being able to call friends or family for a chat – there was no phone signal – was difficult. He experienced low points. "With my mental health, I'd learned how to deal with that, to spot the warning signs. The second I realised, I thought: no, snap out of it, let's go do something. Even if it was something as small as throwing a tennis ball against the wall and, every time I dropped it, doing some sit-ups. I know if I carry that mentality on to the rest of my life, regardless of the challenges, then I'll be fine."
He wrote a list of everything he wanted to do on the island: "I decided that I was going to get fitter, stronger. I was going to practise foraging, regardless of the weather, just to give me some kind of routine."
There were also things Lewis had to do to survive. He collected firewood and built ovens around the island, depending on that day's wind direction. Going to the toilet meant collecting water first. When his drinking water ran out, he drank rainwater, which meant keeping gutters clear to collect it. "It was very primal and a lovely way to live," he says. "As busy as it kept me, it was simplicity and, I think, what humans were originally designed for."
A boat would come every two or three weeks, weather allowing, to deliver coal and fresh water – he would have to lug it to the other side of the island – but Lewis lived largely off foraged food. On dark, overcast days, he could catch lobsters in shallow water, but mainly he survived by eating whelks and limpets.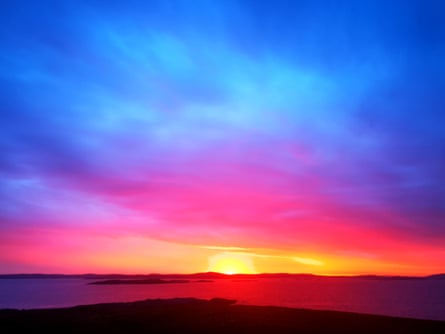 Gratitude was ever present: "I always thought of people in flats in London with families. I was blessed." Plus, it was nesting season on Hildasay. "It was unbelievable," he says. "You've got Arctic terns coming from Antarctica up to Shetland to nest. You've got great skuas. I could lay down at night and it was the noisiest, but most peaceful, sound I'd ever heard. I can still hear it to this day."
He misses the island – he called his bestselling memoir Finding Hildasay. When he finds himself in a city, he realises it's "the wrong kind of noise for me. I often wish that I was sat on my little island." He hasn't been back, but he will – and he will take his fiancee, Kate, whom he met later on the walk, and their baby son, Magnus. "I buried a couple of things on the island that are very sentimental to me. I'm looking forward to revisiting the place. It's going to be very strange to go back there, this time with a family."
'It's not a religion, but it's as close as you'll get'
Bill Cowie has lived on Rona, near Skye in the Inner Hebrides, since 2002. His wife, Lorraine, moved there in 2007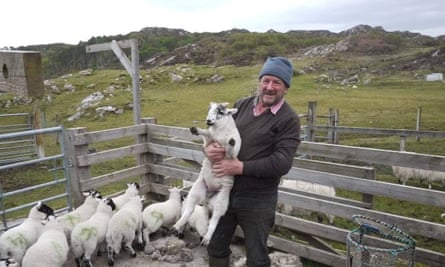 Bill Cowie went to Rona to mend a fence. Two decades later, he is still there. On the mainland, he had been a forester, but he was exhausted with the travel that took him all over Scotland. Unbeknown to him, he also had Lyme disease. "I wasn't really functioning well," he says. He arrived in Rona in summer. "I thought I'd landed in paradise," he says. Cowie learned that the caretakers were leaving and decided to apply for the job.
Throughout the season, people stayed at the island's holiday cottages and yachts came and went; Cowie, naturally gregarious, made friends. Then September came and everyone left. "I said to myself: shit, what have I done?" he says with a laugh. "Here I was on this island all on my own." He drank too much whisky, woke up with a headache, wrote a list of everything he wanted to achieve on the island and reckoned it would take him about five years. "That was 21 years ago."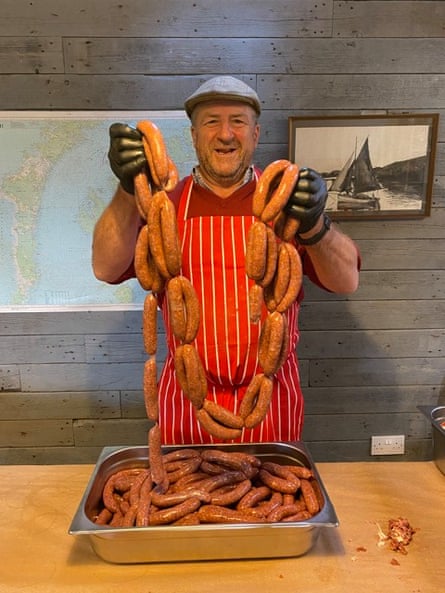 How did he adjust to being alone? "I'm quite happy in my own company," he says. If anything, it was a relief. "It was nice to step off the merry-go-round of life. My kids were up and running, so there was nothing really at home to hold me. I didn't have any money, so I didn't really want to go anywhere. I think because I'd had such a full life up until then, it was quite easy."
There was a lot to do, including looking after a herd of Highland cattle. "If you're going to come to an island like this, you need to have a purpose," he says. "My purpose was knocking it into shape."
The island is owned by a Danish family, who asked Cowie early on how he would manage the 9 sq km (3.5 sq mile) island: "I said you could do with some red deer. The cows had reached the end of their tenure – they had done a fantastic job for about 10 years, preparing the island for the regeneration of trees." Cowie bought six female deer and two stags and let them go; there are now 200. "Deer are my passion," he says.
There have been hardships, especially during the five years when he was alone. In winter, when it's dark outside by 3pm, seeing no one except the boatman who brings supplies every two or three weeks can make him feel low. (He met his wife, Lorraine, when she came to the island on holiday; she moved to Rona in 2007.)
Cowie is almost 68 and still works hard. Sometimes, the electricity – powered by wind turbine, solar panels and a generator – goes off and has to be fixed. Cowie has to deal with storms; he once fell several metres off a cliff.
Any challenges are more than made up for by the simplicity and richness of the lifestyle – this is a man who had a chicken wrap for dinner last night because the venison, langoustines and crab he was living on had become too commonplace to be considered a luxury. (There is also homegrown veg.)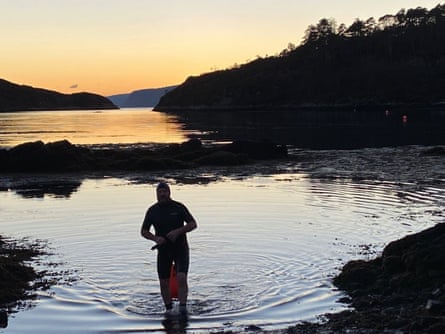 Three weeks ago, he watched orcas in the harbour; there have been other whales, dolphins and a wealth of seabirds. "It makes you more appreciative of the environment," he says.
About a year in, he drove his motorbike to the other side of the island. Wherever he stopped, the view was incredible in every direction. "Rona is beautiful, but the views from it are even more stunning. Every morning, when you open your windows, there's something different to see. I like going out on the motorbike at night, especially at this time of year, to look for the deer." A family of deer live just behind his self-built house. "It's nature on your doorstep. It's not a religion, but it's probably as close as you'll get."
'Fresh fruit becomes the best things you've ever had'
Rachel Buxton spent two months at a time in the Aleutian Islands off Alaska over three summers between 2008 and 2011
Imagine sitting on an uninhabited island in the pitch black for five hours, listening to the sound of seabirds – and the music of AC/DC.
In 2008, Rachel Buxton, 37, was spending two and a half months on uninhabited Amatignak, the southernmost island of Alaska, studying the nesting habits of petrel species and whether sound could entice them to their nests.
Some nights, she played recordings of their calls; other nights, she played music – not just Australian rock bands – to check they weren't simply attracted to random sounds. Then there were nights when she played nothing at all.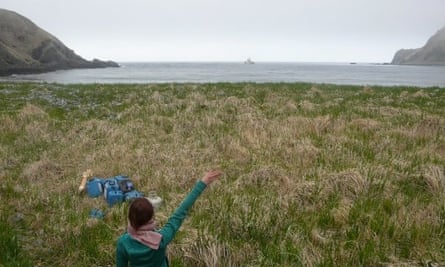 "How often in our modern world do we have the opportunity to just sit and listen?" says Buxton. "On the nights when I was sitting in silence, you could hear insects crawling along the forest floor, rustling the leaves. You realise what you're missing out on in the absence of human-caused sounds. Or flowers would be blooming and you'd smell them. It's beautiful to be alone, with a full sensory experience, in nature. I miss having the opportunity to be immersed."
She was there with a field technician, Tessa, a lifelong friend who has since assisted her on other remote field trips as part of Buxton's work as an assistant professor at the Institute of Environmental and Interdisciplinary Science at Carleton University, Ottowa. Each spent a lot of time alone – they had their own tents – but they often worked together.
It was important to enjoy each other's company, too – they might have a movie night on a Friday and watch a film on a laptop. "We had to check in by radio twice a day with the US Fish and Wildlife Service, for safety, and people would create silly games, or we would treat ourselves by asking the radio operator to Google something for us. Even though you're out in the middle of nowhere, and by yourself pretty much all day, you find little ways of connecting."
In field work, the isolation – and the company of one other person – "manifests itself in weird ways", says Buxton. "We talk about the six-week mark, when everything your field technician does starts to annoy you – the way they eat their cereal, the way they drink water." Buxton is certain she was just as irritating. The answer was to spill it all out in a journal, rather than get tetchy with each other. "Then you can look back on it and think about how silly it was."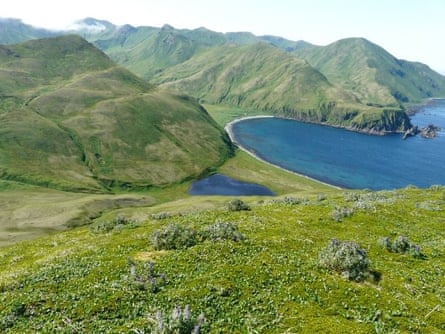 Did she get bored? "You find things to do," she says. "I read more books than ever, because you're not distracted by your phone. You draw, be creative; you just find other things to do that are arguably more productive and enjoyable."
The Aleutian Islands are notoriously windy. Despite the trips taking place in summer, it was cold and rainy for much of the time, with frequent storms and fog. Buxton didn't have a shower for more than two months. All the equipment and two months' worth of provisions had to be lugged from boat to shore through the surf, so Buxton had to be minimalist about what she packed (luxuries included sketch books and chocolate). She got tired of a diet heavy in root vegetables and canned food. She was allowed one half-hour call home a week, by satellite phone.
It made her more appreciative of life in the real world. Fresh fruit and vegetables become "the best things you've ever had. You have a shower, and it's perhaps the best thing that's ever happened to you," she says. Island living taught her gratitude and appreciation: "Learning to sit with your thoughts and about the importance of being bored, for lack of a better word. Making your own fun."
Buxton has always loved nature – it's why she became a conservation scientist – but connecting with the wild world made her more passionate about protecting it. She saw orcas and sea otters, "but seabirds stole the show. Crested auklets, with oil on their feathers that smells like citrus; a passing flock smells like someone opened an orange. Ancient murrelets, whose chicks hatch in a burrow on land and immediately run towards their parents, calling for them at sea. Albatrosses, which ride thermals off waves. Tufted puffins, which look like something from a 70s glam rock band. These birds are pure magic."
Others